It goes without saying that the Canadian real estate industry is expanding quickly. However, current and future homeowners need to consider making a down payment in order to successfully acquire their next houses despite the low interest rates and rising supply that have propelled the industry expansion over the past few years. How much down payment do I need for a house? is a common question because the real estate market moves at break-neck speed said by a real estate agent in Brampton.
We'll discuss what a down payment is in this post and how it affects the kind of home you can buy. We'll also offer you advice on how to set aside money for your ideal home. 
Canadian Housing Market October 18, 2022

Hover Over Province for Details – Map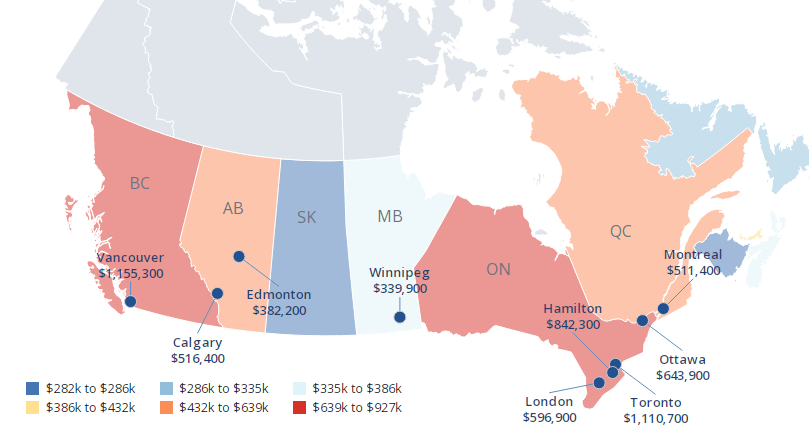 Understanding House Down Payments by a real estate agent in Brampton.
Before discussing the typical Canadian down payment for a home, it's important to comprehend the significance of these up-front expenses.
Before finalising the purchase, buyers of homes must weigh all expenditures, including closing costs, insurance premiums, and mortgage loan interest rates.
The down payment is, nevertheless, the cost that stands out the most on this list.Simply put, the down payment aids financial companies in figuring out the kind of loan you are eligible for.
Additionally, based on the amount of your down payment, these companies determine what your interest rate will be and how long your mortgage payments will last.
As a general guideline, you want to compare various mortgage lenders and engage with the company that offers you the finest terms. Small down payments result in increased long-term house buying costs because of higher interest rates and other costs.
Larger down payments can dramatically lower your property costs, especially if you have a bad credit history at the time your mortgage loan application is granted.
Housing numbers according to real estate agent
In September 2022, the Toronto Regional Real Estate Board (TRREB) stated that the housing market in the GTA continues to adjust to increasing borrowing costs. Although sales for the month were 5038, they were 44% lower than in September 2021. Additionally, the number of new listings decreased by 16.7% to 11,237 on an annual basis. Since 2002, there have been less new listings recorded for September.
Although it increased marginally from the previous month to $1,086,762, the average selling price decreased by 4.3% from September's 2021 number of $1,135,027.
Predictions according to number
According to real estate agent in Mississauga Hovering just around $1.1 million, the average selling price may have found some support during the last couple months of summer. "Jason Mercer, market researcher "Some property buyers may be facing tighter market conditions in some GTA neighbourhoods because new listings are down pretty significantly year over year and considerably below historic norms. 
It will be crucial to watch pricing changes during the coming month because October often marks the height of the fall market.Although it will take time, Justo's Broker of Record Alexander Kvitnisky anticipates a return. 
The market is anticipated to bottom out in the spring before fully reacting to the higher interest rates, claims real estate agents in Mississauga citing an RBC analysis. "Compared to the prices peak in Feb 2022, the predicted decline is roughly 14%.