The 22nd edition of the FIFA World Cup is all set to begin on 20 November in Qatar spanning almost a month. This is the first time a tournament is being hosted by a middle eastern country. The official ambience, surroundings and wealth has been designed to resemble the infinity, symbol tournament trophy and the number eight reflecting the eight host stadiums.
Yeah, within the estimated cost of two $220 million. This FIFA World Cup is by far the most expensive one. However the mega event has drawn criticism from human rights groups over the nation's treatment of migrant workers and its restrictive social laws.
How to buy Fifa world cup 2022 tickets and see your favorite team win!
More than 800,000 tickets were sold at FIFA's own initial ticket sale. Since then, the organization has held second and third phase sales, thus it is currently more difficult to obtain the highly sought-after tickets.
FIFA.com sells first-come, first-served tickets.
Purchase travel packages and tickets from Qatar Airways.
How much are tickets to the 2022 World Cup final?
The final at Lusail Stadium on December 18 will have the highest demand of the entire competition. The most affordable ticket for a non-Qatari citizen is $603.36, while a Category 4 ticket for the final costs $205.69. Each Category 1 ticket is outrageously priced at $1,604.39.
Overview of match and teams at FIFA world cup 2022
The first round 32 nations have been drawn into eight groups of four and the top two teams from each group, will battle it out
In the round 16 which starts on the 3rd December
The quarters will start on the 9th December
Semi Finale on the 14th Dec
The big final will be on the 18th December 
FIFA World Cup 2022 Teams
Argentina (ARG), Australia (AUS), Belgium (BEL), Brazil (BRA), Cameroon (CMR), Canada (CAN), Costa Rica (CRC), Croatia (CRO), Denmark (DEN), Ecuador (ECU), England (ENG), France (FRA), Germany (GER), Ghana (GHA), Iran (IRN), Japan (JPN), Korea Republic (KOR), Mexico (MEX), Morocco (MAR), Netherlands (NED), Poland (POL), Portugal (POR), Qatar (QAT), Saudi Arabia (KSA), Senegal (SEN), Serbia (SRB), Spain (ESP), Switzerland (SUI), Tunisia (TUN), United States (USA), Uruguay (URU), Wales (WAL).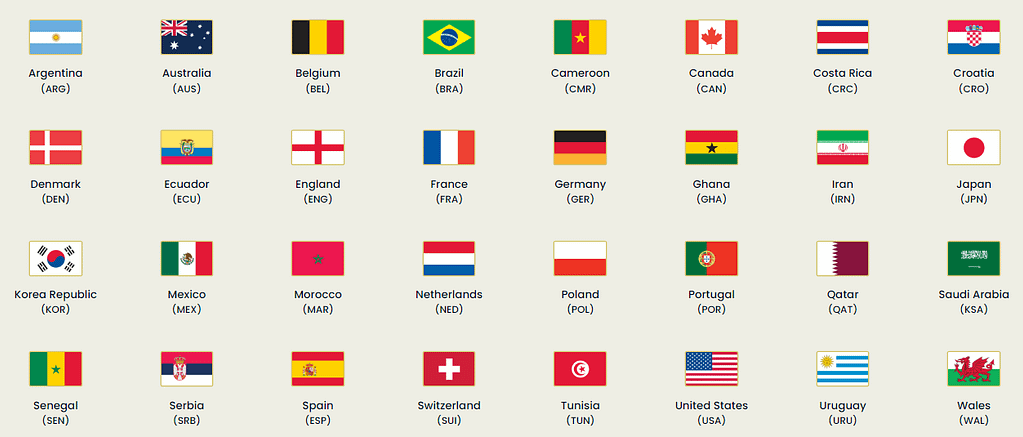 FIFA World Cup 2022 Groups
| | | | | |
| --- | --- | --- | --- | --- |
| Group A: | Qatar | Ecuador | Senegal | Netherlands |
| Group B: | England | Iran | United States | Wales |
| Group C: | Argentina | Saudi Arabia | Mexico | Poland |
| Group D: | France | Australia | Denmark | Tunisia |
| Group E: | Spain | Costa Rica | Germany | Japan |
| Group F: | Belgium | Canada | Morocco | Croatia |
| Group G: | Brazil | Serbia | Switzerland | Cameroon |
| Group H: | Portugal | Ghana | Uruguay | South Korea |
FIFA World Cup 2022 Groups
The Lusail Iconic Stadium will host the FIFA World Cup 2022 championship match on December 19. By Making their debut in the FIFA World Cup Qatar 2022 will play against Ecuador in the tournament opener on 20 November. While the previous World Cup host Russia has been disqualified following the Russian invasion of Ukraine.
Match Stages FIFA World Cup 2022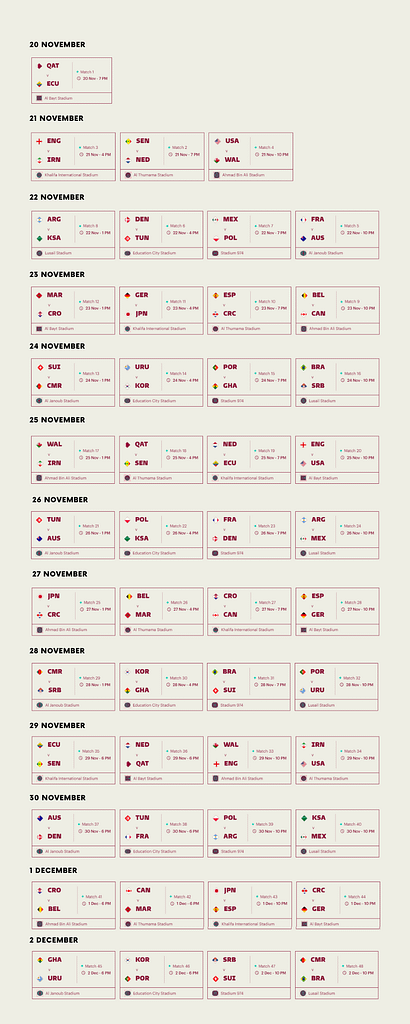 Round of 16 FIFA World Cup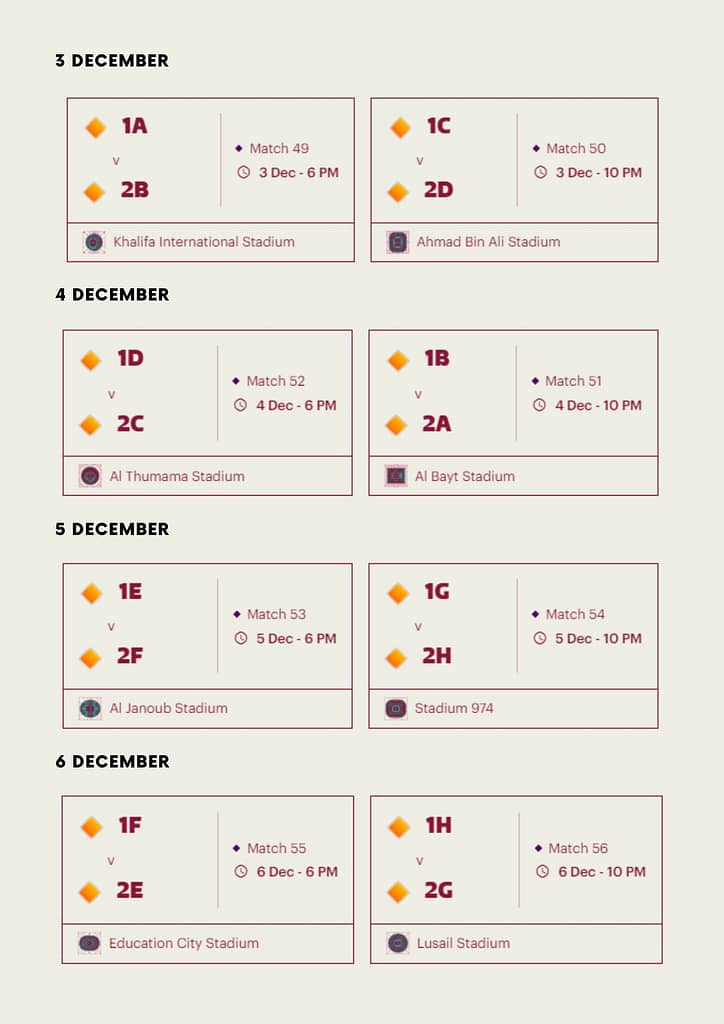 Quarter-Finals FIFA World Cup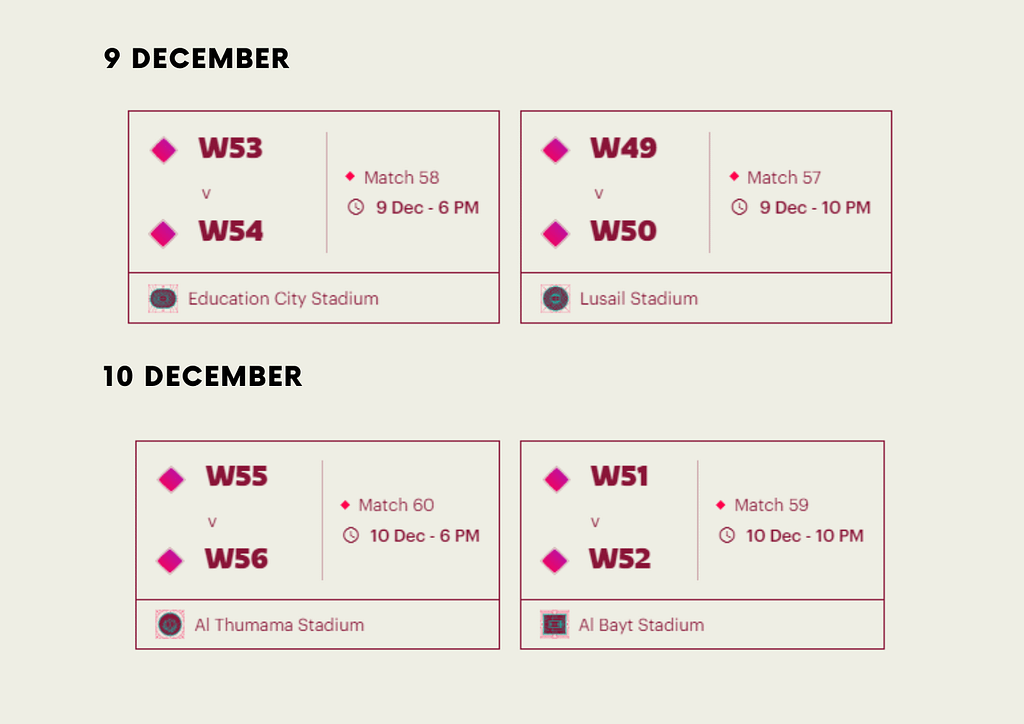 Semi-Finals FIFA World Cup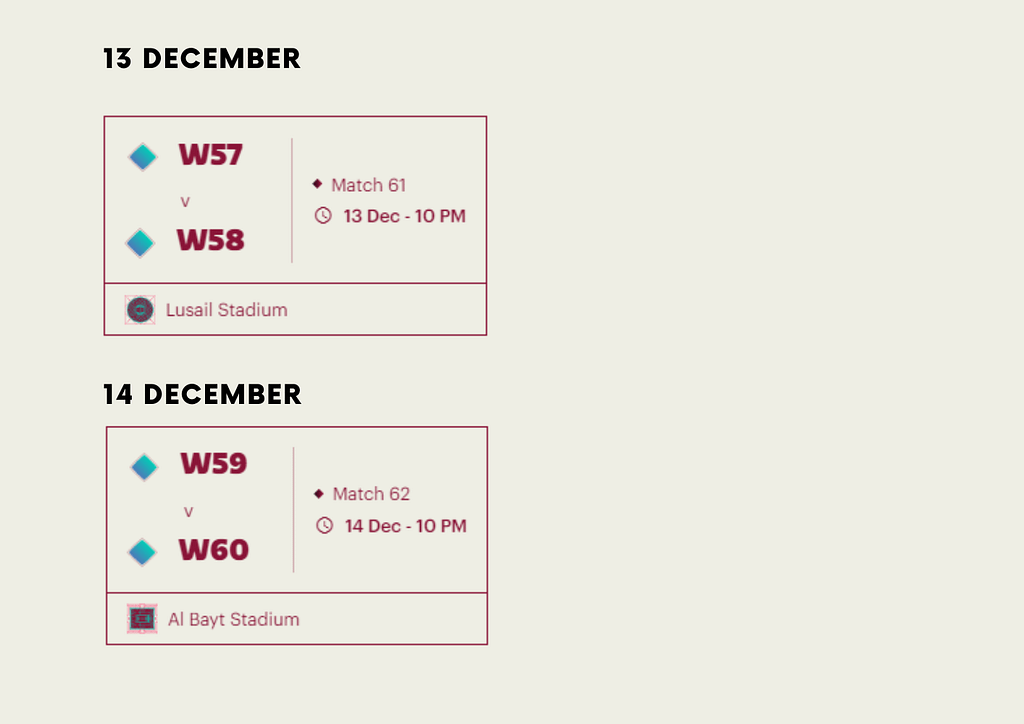 3rd Place & Final FIFA world cup 2022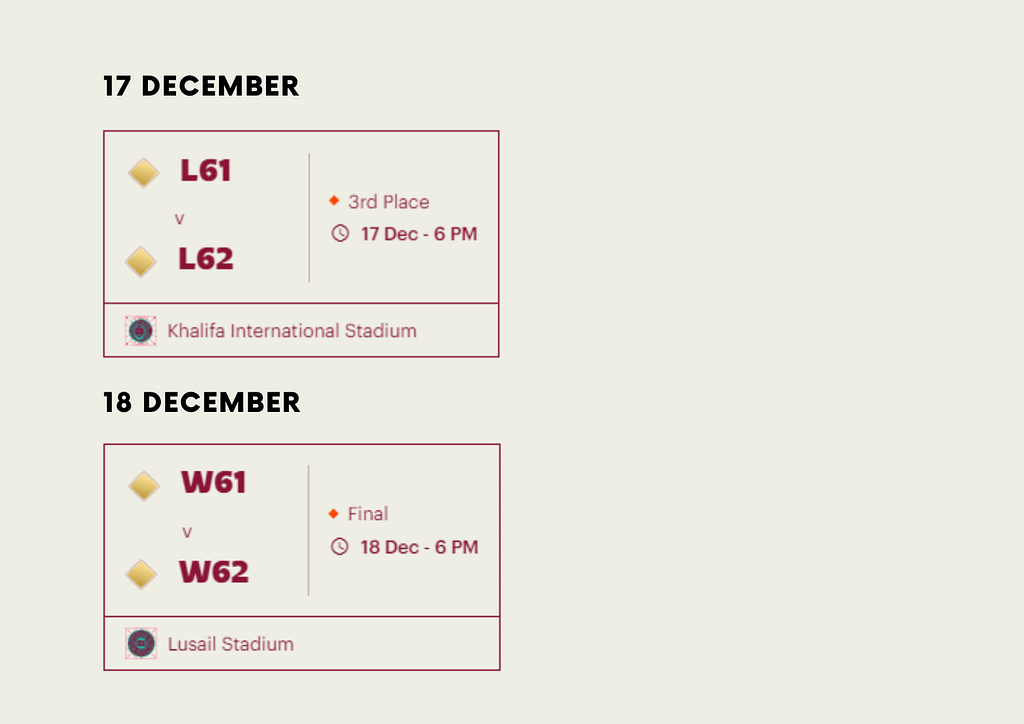 Current updates of Fifa world cup 2022
24 Nov : In Portugal's 3-2 victory over Ghana on Thursday, Ronaldo became the first player to score at five World Cups when he converted the game's first penalty.
24 Nov : The closest attempts to end the score were made by Real Madrid midfielder Federico Valverde and Uruguay captain Diego Godin, who both hit the woodwork in each half.
23 Nov : Prior to their second World Cup group match against Ecuador on Friday, Netherlands manager Louis van Gaal has stated they will not follow Germany's protest of covering their mouths.
23 Nov: In order to maintain their dreams of competing in Qatar, Argentina's legion of fans may also be hoping to the gods of sports that the late football legend might still motivate his nation to victory over Mexico on Saturday.
22 Nov : At Al Janoub Stadium, CupEmbolo scored three minutes into the second half to give Switzerland a crucial three points in a group with tournament favorites Brazil and Serbia.